Travel to the north part of Italy, the city of Bergamo, the mountains and the Brembana Valley. Trekking, biking and relaxing at the great Spa in San Pellegrino.
Welcome to Sara's Italy, the Swedish travel agency, situated in Italy, Bergamo and San Pellegrino Terme.
Join our trips and you will in an easy way, explore the small mountain area north of Bergamo. We all in Team Sara's Italy, love the mountains and we'll be happy to share and show the area together with you. We go for trekking, walking, biking and mountain biking and of course, tasting and trying the local food and traditions.
We pick our best experiences and put it together to an exceptional offer for you and your friends. You can travel alone and join others for an open trip or if you are a group, we organize the trip exactly as you want.
Please enjoy and get inspired for your next trip to Italy!
TEAM SARAS ITALY - the great people you'll meet on the trips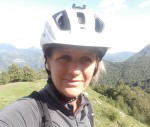 THE TRAVEL AGENCY - SARA'S ITALY
My name is Sara Grytting, the owner and founder of the travel agency Sara's Italy. I'm a Swedish entrepreneur and dreamer that decided to live my life a bit more close to nature and scale down life a bit. I went to Italy and Bergamo and fall in love with the area and the mountains - and here I still am.
Join me and my friends and local guides for a trip and activities in the great area of Orobie Alps or taste and learn about the local food and the great sparkling wine Franciacorta. Your wish - our choice!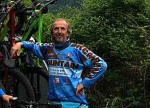 CLAUDIO - MTB guide

The guide, the author and the one who secures that everything and everybody is in the right place at the right time. He has been biking more or less all his life, and now he bikes more or less all the time. He loves the mountains, the area and he'll be happy to show you the small hidden places and the best trails. The trails will be aggressive sometimes, but with this calm guide, you will come down safe and secure.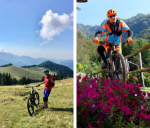 FEDERICO & DOMENICO - MTB guides

2 great guides and bike buddies who will always be there when you need them. They have been biking forever and if there is a new trail the haven't seen, it is not a trail... They bike just because it is funny and join us maybe just because of the opportunity to bike. Federico is living in the area and we'll meet some of his friends, just around the corner for tasting cheese, grilled chestnuts or just saying hi when we are passing by.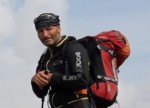 MAURO - Alpine guide

He knows most of the things about the area and the mountains, our alpine guide Mauro. He keeps us on the right trail and will help us all to reach our goal for the day, a top, a climb or just to arrive at the Rifugio for a sleepover in the mountains. He works like many other alpine guides, as a rescue guard and together we will be safe and secure in the mountains.
His passion for mountains gives you the opportunity to go climbing or even ice-climbing and alpine free skating in the winter!
TO TRAVEL WITH SARA'S ITALY - OPEN TRIP, PRIVATE, GROUP OR WORKING IN GOOD COMBINATION - YOU CHOOSE!
Hey!
Right now it is very troubling in our world and we in the travel industry have obviously not been spared. Today we still know very little about our near future, which airlines survive, have our hotels and their families survived the pandemic and the crisis? will we be able to arrange our beloved trips?

In the closest, all of SarasItaly's guides and friends we visit are well, and they wrestle just like me with the frustration of not being able to go out into the mountains. But the mountains and nature remain and we are asked to show patience, which is a matter of course today.
In concrete terms, we follow the Swedish Foreign Ministry's travel recommendations and yet hard-hit Italy's recommendations to secure and minimize the spread of Covid 19. We have direct contact with our booked guests and resolve the situations as time goes by and the recommendations give us guidance.

So to all of you - keep your and our dream alive about a wonderful trip to the small valley Valle Brembana and the fantastic mountains in Bergamo region - we long and we are longed for of our friends and partners!

Sincerely, Sara Grytting, SarasItaly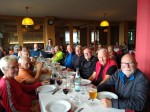 TRAVEL AS YOU WANT, SOLO IN A THEMATICAL GROUP OR YOUR PRIVATE GROUP?
Our open trips are an excellent opportunity to join a group even if you are solo or just a few friends wants to go travelling together. All the travellers have the same interest and all come around the activity, bike, food or trekking. We bring you to the secret areas, and our own favourite places, the program is scheduled and more or less complete and all-inclusive.
Do you want to shape your own trip? Fill it with activities or at the specific days that suit you and your friends? Please don't hesitate to contact us to find a solution for you.
The closest airports are Milan/Bergamo Orio al Serio, Milan/Linate or Milan/Malpensa. The main train station is Milan and with 1-hour local train to Bergamo city.
SarasItaly - SG Turismutveckling AB | 24016 San Pellegrino Terme, BG Italien
426 53 Västra Frölunda Sverige | +46 705 222 376 | +39 334 906 7528
org nr: 556888-5601 | info@sarasitaly.com | www.sarasitaly.com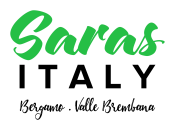 We have arranged a travel guarantee at the Swedish Kammarkollegiet
The fact that we have arranged a travel guarantee means that you can be reimbursed if any part of your package tour or linked travel arrangements is canceled if we should suffer insolvency.
The fact that we have arranged a travel guarantee means that you are entitled to compensation for the part of the package trip or linked travel arrangement for which we are responsible and which has not been completed.
Here you can check that we have a travel guarantee