BIKING IN CLASSIC ITALY, GIRO DI ITALIA TOURS, HILL TRAINING AND WONDERFUL VIEWS OVER THE MOUNTAINS
- A BIKE TOUR TO ENJOY TOGETHER -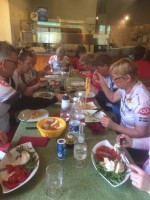 Do you enjoy shaking legs and drops of sweat on your forehead? Of course you do, and most people enjoy the combination of wonderful challenging bike rides and good food, plenty to drink and great company!

We invite you to a bike ride among mountains and valleys in close proximity to Bergamo. Everything is here! Winding roads without heavy traffic, one or two cows perhaps ... but also a couple of classic climbs that formed a stage in the Giro di Italia, which 2017 passed our valley, Valle Brembana.
Let our guide Marco take you on bike rides where he knows roads, curves and climbs like in his own pocket, Marco lives just outside Bergamo and has cycled many miles around. We will see both Como lake and Iseo lake and the trip also includes an overnight stay at the vineyard where we enjoy good food & drink!

Welcome to a wonderfully tough, challenging and tasty bike ride!
Day 1, Arrival Valle Brembana and San Pellegrino Terme
Transfer from Orio al Serio / Linate / Malpensa airports is included on the day of arrival.
We check-in at our central hotel and gather for an aperitif and a short walk in the historic village. If it is time for arrival in the earlier part of the day, you will meet Marco for a short bike ride.
Welcome dinner and conversation about the days to come.
Food included: Welcome dinner, 2 dishes with wine / beer, water and coffee

Day 2, Valtaleggio, Barzio and a glimpse of Lake Como.
About 93 km and 1550 hmt.
Our guides help us with bikes, adjust, change pedals etc and make sure everything is ok. We take you through the lovely Valtaleggio valley, crowded and with the mountains almost above us, then we wind our way up to Passo Culmine San Pietro 1250 hmt and pause for a light lunch. We turn down the Valsassina valley and the town of Lecco. Here we get a glimpse of Lake Como before we turn off home and up into our valley Valle Brembana again. A first day to feel the bikes, environments and altitude meters. We are met by an aperitivo at the hotel and end the evening with a guided tour in our beer brewery and dinner at the brewery's restaurant.
Food included: Breakfast, aperitif, dinner at the brewery's restaurant incl beer tasting, water & coffee

Day 3, South out of the valley towards Bergamo and finish with Giro stage.
About 70 km and 1300 hmt
Today we challenge our legs and take on part of giro stage 21 from the 2017 Giro di Italia. it´s a part of the mountain stage where the top and the sub-goal were full of people, chairing and shouting and the atmosphere was magic. We start biking out of our valley and towards Bergamo to get a few kilometres on the road and then turn back to the valley and in Zogno we take right to the classic up hill road towards Miragolo San Salvatore. In Bracca we have a nice roll towards San Pellegrino and the hotel. An aperitivo before you have your own evening for dinner.
Food included; Breakfast, aperitivo

Day 4, Shorter flexible cycling day
About 36 km and 930 hmt
Today is a flexible half-day tour to have some rest and recharge for tomorrow and the week's longest cycling. We take the road up the mountain via Ambria, Serina and then Dossena. Dossena was once one of the largest towns in the valley and the well-known mine was the livelihood of most people in the town. A good trip and we, of course, we decide the length according to mood and leg strength. In the evening we take a transfer in our valley (20 min) and visit Agriturismo Ferdy where we get an insight into the traditional cheese making and the family's passion to cook with natural ingredients sourced from their own farm.
Food included: Breakfast, aperitivo, cheese tasting, evening dinner 4 dishes & excellent drinks

Day 5, Bike tour with lake view, Giro di Italia feeling and a night at the vineyard in Franciacorta (Champagne area)
About 110 km and 1700 hmt
We pack an overnight bag which we send with transfer to the farm, today it carries off towards Lake Iseo and further down to our wine area Franciacorta. We go out from Valle brembana via Dossena and Passo Zambla which is about 2000 meters, which is one of the most famous passes for our cyclists. We come down into the valley Valseriana and pass Clusone to turn right over the now slightly undulating landscapes until we see Lake Iseo. The town of Lovere just close to the lake, hosted the start of stage 16 of the Giro d Italia 2019. This stage consisted of 226 km and a full 5700 hmt !!!
At the vineyard we check in to comfortable rooms, cheers in a glass of bubbles, eat a bite and take a dip in the pool. The evening offers a guided tour of the farm's wine production and a really good dinner with good wines.
Food incl; Breakfast, aperitif and evening dinner with wine tasting

Day 6, Back to San Pellegrino Terme, around Bergamo and its hills.
About 80 km and 500 hmt
Exit towards Bergamo and our valley Valle Brembana. We pass the city of Bergamo and gets a few easy kilometres in our legs. We stop and enjoy a lunch in one of the surrounding villages we pass overlooking the city. Aperitivo at the hotel on arrival.
Back in San Pellegrino Terme, relax in the hotel and free dinner
Food incl: Breakfast, aperitivo

Day 7, Valle Imagna and great cycling through the smallest of Bergamo's valleys.
About 93 km and 2240 hmt
We cycle south and tackle our smallest valley, Valle Imagna. Here we will meander along the entire mountain walls of the valley, through the small villages and then on the way to the valley, Valtaleggio, where we cycled the first day. Today we get it as downhill and we roll towards San Pellegrino Terme.
Back and returning to San Pellegrino, we thank our guides for the tours, leave bikes and have a glass together. The evening invites you to Spa QC Terme with everything tired bike bodies need!
Food included: Breakfast, aperitivo, evening buffet at Spa QC Terme

Day 8, Departure day from San Pellegrino Terme
The day is adapted to your departure times to the airports
Food incl: Breakfast
KIND OF TRIP
LEVEL:
GROUP:
CYCLE TOUR
4:4
SMALL-MEDIUM
HOTEL / AGRITURISMO
BIKE GUIDE
MINIMUM NUMBER OF PARTICIPANTS
We rarely cancel trips, we arrange them because we want to cycle in the mountains. In the unlikely event that we cancel a trip, the traveller will be offered to complete the trip at an additional cost, choose another trip or cancel the trip and get all the money back, including the registration fee. If the trip is cancelled, this will be announced no later than 30 days before departure.
PROGRAM CHANGES
The program may change due to external circumstances such as the suitability of the weather for the activity
ACCOMODATION
We live in a bicycle-friendly hotel *** in San Pellegrino Terme. Alternative nights at Agriturismo or vineyard.
BICYCLES
You bring your own "well-cycled" bike to get the best of experiences. Of course, there are bikes to rent if it suits you better. We work with Wilier or KTM bikes. If you rent a bicycle, it is good if you bring private equipment such as a bicycle computer, helmet and pedals. Feel free to contact us for questions.
INSURANCE
Do not forget to check your insurance for any damage to the rental bike. These possible damages are paid in full on-site at a recommended workshop.
Private accident insurance is mandatory, which includes biking activity. If you are an EU citizen, please bring your EU healthcare card.
THIS IS INCLUDED
Transfer from and to recommended airports or stations.

Part of two- triple room, hotel ***, 6 nights incl breakfast.

Part of a dormitory room at Agriturismo 1 night incl. Breakfast.

5x evening dinner with drinks, aperitifs & bicycle coffee.

All excursions and visits, tastings and tastes

Evening entrance at Spa QC Terme

Local bike (eng/it) guide every biking day
NOT INCLUDED
Travel to Italy by train, car or plane.

Single room supplement, 7 nights 200.00 €

Lunches during bike days & free evening

Cancellation protection & personal insurance, please see erv.se insurance for active travel
CYCLE TOUR IN LOMBARDY, BERGAMO -ONE WEEK BIKING AMONG HILLS, MOUNTAINS AND VALLEYS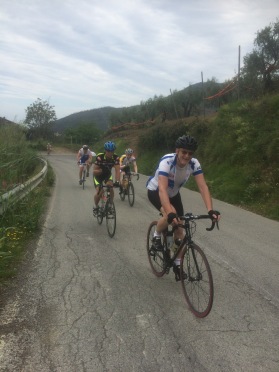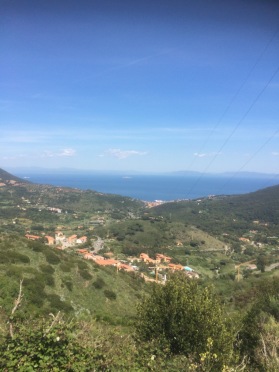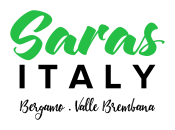 SarasItaly - SG Turismutveckling AB | 24016 San Pellegrino Terme, BG Italien
426 53 Västra Frölunda Sverige | +46 705 222 376 | +39 334 906 7528
org nr: 556888-5601 | info@sarasitaly.com | www.sarasitaly.com
We have arranged a travel guarantee at the Swedish Kammarkollegiet
The fact that we have arranged a travel guarantee means that you can be reimbursed if any part of your package tour or linked travel arrangements is canceled if we should suffer insolvency.
The fact that we have arranged a travel guarantee means that you are entitled to compensation for the part of the package trip or linked travel arrangement for which we are responsible and which has not been completed.
Here you can check that we have a travel guarantee