easy Activities outdoors, yoga & Spa, bergamo and San Pellegrino Terme, Italy 2020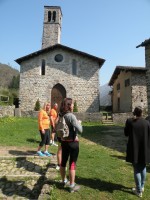 A trip for anyone who likes to be active outside and enjoy good food, discover the Italian champagne and learn about the history of the area with a guided tour of Bergamo.

This trip offers and gives you a little of each, we hike from San Pellegrino Terme one day with a picnic in the backpack, we ride e-bikes in our valley with stops for coffee and guided tour in the small postal village and museum of Cornello dei Tasso. Morning Yoga, outdoors, if the weather permitting and an enjoyable evening at Spa QC Terme where you can have nice body treatments or just enjoy the beautiful resort with pools and saunas. Last but not least we have a nice excursion to the Franciacorta wine area & the charming town of Bergamo.

A little bit of each and a lot of Italy - the trip is perfect for groups & families or for those of you who want to be easy active outdoors without any difficulties!
Day 1, - Arrival San Pellegrino Terme
Arrival in San Pellegrino any time, transfer from nearby airports and train stations. About 18.00 we gather for a short guided tour in the historic San Pellegrino Terme and we'll eat dinner together and talking about the coming days.
Food included: Welcome dinner, 2 dishes, wine, water and coffee

Day 2, - Historical bike ride in Valle Brembana and a great night at Spa QC Terme.
Today we have rental bikes and our local guide will accompany us for a great bike ride along the river and up into the mountains. Simple and possible for everyone as we use stable E-bikes. You should be accustomed to gears and only handbrakes. The cycle tour goes in historical terms and we follow the valley's trade routes from the 1400s, we visit the charming village of Cornello dei Tasso and get a guide (English) that gives us a picture of life in this small village which became a trading stop and also important for the postal system development in Europe. After coffee, we cycle up the mountains on rough asphalt roads and about 600 meters high. We have lunch with a view before returning to San Pellegrino, mixed gravel and asphalt. The day ends best with a Spa visit to QC Terme.
Food included: Breakfast, lunch 2 dishes, wine, water and coffee, evening buffet at Spa QC Terme

Day 3, - Morning Yoga, Bergamo & beautiful sparkling Franciacorta wines.
Morning walk and a lovely yoga pass before breakfast, then the local bus brings us to Bergamo and we meet our guide for a walk in the city. She offers history and anecdotes from both past and present. A nice lunch in charming Citta Alta before heading on to the Franciacorta wine district. It is a fantastic area that produces Italian "Champagne" of highest quality and the remains of the grapes will be fine Grappa. A visit to the Grappa distillery with a presentation of the production and tasting. At the Franciacorta winery, we have dinner companies with sparkling Franciacorta in different types.
Food included: Breakfast, lunch with wine, water and coffee, evening dinner in the vineyard, 3 dishes with Franciacorta wine, water and coffee

Day 4, - Trekking in the Orobie Alps
Bring your good shoes, hiking boots, your poles and pack a small backpack with water and picnic from the hotel, today we will enjoy the walking up on a mountain in the valley. Our trekking guide takes us up the mountains and he will choose the right way and keeping us safe and secure. We reach up to 1500-2000 altitude meters, brilliant views and fresh air. We make about 8-900 altitude meters during today's approximately 6 hours of hiking. We walk on narrow paths, so-called balcony roads with breathtaking drops and rocky ground, but it is a tour that everyone can manage in the right tempo.
Once back in San Pellegrino and the hotel we eat and enjoy a dinner together to resume our days and trip.
Food included: Breakfast, picnic, dinner 3 dishes with wine, water and coffee.

Day 5, - Morning Yoga & Departure from San Pellegrino Terme
Morning walk and Yoga pass for those who want. Departure from San Pellegrino Terme and we will provide you with transfers for your flights or train. For those who want, we take a trip to the local cheese & butcher shop where you can bring some good stuff back home. If you have a late departure, the local bus to Bergamo can give you a nice day in the charming city, with a 15-minute bus journey to the airport. We are happy to help give your trip an extra possibility depending on your flight times.
Food included; Breakfast
ON DEMAND Autumn 2020
Will be back 2021
TYPE OF TRIP:
DIFFICULTIES:
GROUP SIZE:
EASY ACTIVE, ALL INCLUSIVE
2 : 2
MEDIUM, MIN 4, MAX 16
MINIMUM PARTICIPANTS
We do really like to show you the area and taste the local food, and it is not often we have to close a trip. If it should be so, that the participants are less then 4p, we let you know at least 30 days before departure and we will refund all your money.
CHANGES IN THE PROGRAM
The program can be changed in case of circumstances such as bad weather and other things that the organizer can't be responsible for.
ACCOMMODATION
We stay in hotel***, sharing a two-bedded room. (single room on demand). Familiar and good located.
EQUIPMENT & LUGGAGE
For the best experience on this trip, you should have comfortable clothes and shoes made for walking and biking outside.
INSURANCE
Don't forget to check your private insurances. If you are an EU-member, please bring your international healthcare card.
Flight or other transportation to Italy is not included. We include transfer from the closest airports such as Bergamo/Orio al Serio, Milano/Linate or Milano/Malpensa or the train station in Bergamo. You will often find flights with Ryanair, Easy Jet or other cheap flights. If you arrive by car or local transportations, please let us know and you will have a personal price.
The trip has a minimum of participants and if the trip wouldn't be as scheduled we repay all your money and we let you know as latest as 30 days before departure.
INCLUDED IN THE PRICE
* Part in two bedded room at hotel***, 4 nights incl breakfast.
* 3x dinner, 3x lunch/picnic and 3x aperitivo, incl drinks
* Tour leader for the whole trip, MTB guide and Trekking guide
* All guided tours and visits including tasting, both food and drinks
* Rental E-bikes
* Guided tour in Bergamo city
* 2x Morning Yoga
* Evening entrance to Spa QC Terme incl. buffè, finger food and drinks
* All transfer needed for tours and excursions.
* Transfer to recommended airports or train station on arrival and departure day.
NOT INCLUDED
* Single room at the hotel, 4 nights, + 160.00 €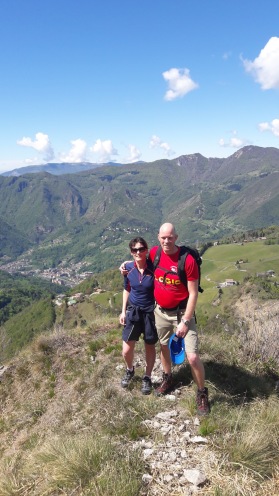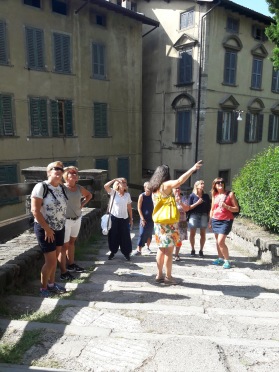 SarasItaly - SG Turismutveckling AB | 24016 San Pellegrino Terme, BG Italien
426 53 Västra Frölunda Sverige | +46 705 222 376 | +39 334 906 7528
org nr: 556888-5601 | info@sarasitaly.com | www.sarasitaly.com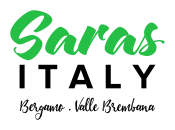 We have arranged a travel guarantee at the Swedish Kammarkollegiet
The fact that we have arranged a travel guarantee means that you can be reimbursed if any part of your package tour or linked travel arrangements is canceled if we should suffer insolvency.
The fact that we have arranged a travel guarantee means that you are entitled to compensation for the part of the package trip or linked travel arrangement for which we are responsible and which has not been completed.
Here you can check that we have a travel guarantee