trips FOR ACTIVE PEOPLE
MTB ENDURO, TREKKING, BIKING, WALKING, FOOD & WINE AND EASY ACTIVITIES


Active trips in Italy. All mountain biking, trekking, hiking, culture and pleasure.
Private custom made group travel.
MOUNTAIN BIKING FREERIDE, DOWNHILL & CROSS COUNTRY
A little bit wilder, steeper and stronger, nature tells us where and how to go. It is worth all the efforts to reach the mountains and stunning views. The trails are narrow and curvy with a lot of difficulties. We always find a good solution for the group so everybody will have the right level of biking. This is why we have small groups and local guides.
TREKKING IN DIFFERENT LEVELS
Together we do trekking from day tours, walking our historical paths in the valley, or several days with sleepovers in the mountains. The longer trekking tours will give you a great experience of both your brain and body. Long days walking in the great nature and challenging trails ends around the dinner table in our Rifugio, where we will bee eating and sleeping to catch the energy for the next day. This is the easy and genuine way to explore the mountains, just like the Italians do.
FOOD TOURS & EASY ACTIVE
These travels focus on the good and curios in life. We go for guided tours in the city of Bergamo, spend a day in the amazing Spa in San Pellegrino Terme, food and taste tour in the Valley Brembana. In the nearby, we have wonderful wine houses, such as the Italian Champagne - the Franciacorta, to visit and learn more about. These travels do not focus on outdoor activities.
ROAD BIKE TRIP FOR BOTH BODY AND SOUL
News for the season 2020 - bring your road bike and join us for an exceptional week, biking the Giro di Itala tours, tasting local products, challenging hills and fine dining - a trip for both your body and soul.
PRIVATE TRIPS
We could create a private journey for you as a person or small or larger groups. Please send us an e-mail and we will start working together to shape your best travel experience.
ALL TRIPS FOR THE SEASON 2020
HOW TO TRAVEL TO ITALY, BERGAMO AND SAN PELLEGRINO TERME
The closest airport is Bergamo Orio al Serio and Ryanair flies from most of the European countries. EasyJet is also flying to airports like Milano - Malpensa and Milano - Linate. You chose which way you want to go. Let us know when and where you arrive and we pick you up at the airport. In our trips and packages, the transfer from and to the airport or train station, always are included. The main train station for the long-distance train is Milan Central station and from Milan, you easily catch the 1-hour train to Bergamo.
Directly to Ryanair homepage >> Directly to EasyJet homepage >>
SMALL GROUPS
To keep good quality in experiences, security and the trips and experiences we organize and sell, we have decided to work with small groups in our open travels. This gives you the possibility to knew your travel friends, bike buddies and our guides well and for us to be flexible and personal for all of you.
OPEN TOUR
Travel as single but don't be alone! As single you book a place in the open group, the group that matches your interest and activity, the same as for the other travellers. You share experiences and happenings with travel friends and maybe you will be friends forever... We have an age limit of 18 years for solo travellers and 15-17 years to travel together with your parents.
PRIVATE GROUP
Let us create your personal trip for your group, few people, family, friends or bigger groups. Find inspiration in our open travels and then send us an e-mail with your wishes and we will customize the travel for you.
SarasItaly - SG Turismutveckling AB | 24016 San Pellegrino Terme, BG Italien
426 53 Västra Frölunda Sverige | +46 705 222 376 | +39 334 906 7528
org nr: 556888-5601 | info@sarasitaly.com | www.sarasitaly.com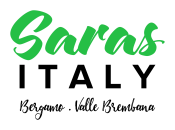 We have arranged a travel guarantee at the Swedish Kammarkollegiet
The fact that we have arranged a travel guarantee means that you can be reimbursed if any part of your package tour or linked travel arrangements is canceled if we should suffer insolvency.
The fact that we have arranged a travel guarantee means that you are entitled to compensation for the part of the package trip or linked travel arrangement for which we are responsible and which has not been completed.
Here you can check that we have a travel guarantee