rent your own holiday house for self-service and flexibility. stay in house or appartment, close to the nature and enjoy and meet the locals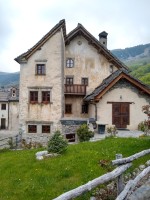 Now you can finally rent your own holiday house in northern Italy via SarasItaly!
Here you will find charming accommodation that is in every way different in size, location and price range. The common denominator is that it is my friends and contacts who give you an experience beyond the usual rental portals.
Maybe there will be a coffee in the garden with the host? or an invitation to a barbecue evening with the host's neighbours and your family? An excursion together or simply a bunch of wonderful tips on beautiful places and restaurants with good food?

Here you are close to Bergamo and Milan for easy arrival by plane or train. As the accommodation often is located right outside the tourist routes, it is recommended to rent a car for the period. Feel free to contact me and I will help you with the best solution.

I have selected a few accommodation options, and add more when it feels just right. For my part, it feels incredibly nice to be able to offer you this opportunity and I am always at your side for questions, thoughts and of course various activities.
holiday house "Baita prati alti" - Mario and Elia
TRADITIONAL HOLIDAY HOUSE ON THE COUNTRYSIDE
Here you are welcomed by your hosts, Mario and Elia, father and son, who live next door. The house is a cottage or Baita as we say here, made of stone and originally a house for the animals that grazed in the meadows. At its height with sweeping views of the small valley, you will find a tranquillity that invites to long barbecue evenings on the terrace.
The house is divided into two apartments, but with the possibility to keep everything open and suitable for two families or a family of larger size.
Rental period May - October
6 bedrooms, total 12 beds
2 big kitchen
4 toilets, 2 showers
A lot of space, green fields for playing. Covered terrace, furniture and BBQ
Tranquillity, close to nature, easy living.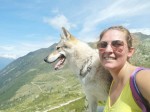 THE "GUARD CABIN" WITH GREAT VIEW OVER SAN PELLEGRINO TERME.

You will be warmly welcomed by Elena who lives in the beautiful main house next door. She is the one who carefully has renovated the old gatehouse into a one-of-a-kind charming apartment. Here you will find a quiet location with glorious views of the river Brembo and the whole of San Pellegrino Terme.
Elena runs one of the cafès on the square in the village and when there is a possibility, she is happy to invite you to a barbecue evening in her garden.
The apartment is perfect for two people for a little longer and more comfortable stay, but is easily supplemented with the bed-sofa in the kitchen for two more friends.
San Pellegrino Terme is the star of our valley and the whole village is permeated by houses in "liberty" style and with Spa QC Terme, Grand Hotel and the beautiful Casino as the jewels.
1 bedroom, king size bed, 2 guests
Bed-sofa for 1-2 guests
Well equipped kitchen
1 bathroom, toilet and shower
Calm and silence, view over San Pellegrino Terme
Free parking
elena's newly renovated apartment "guard cabin", San pellegrino terme