All Mountain, downhill and natural enduro in the Orobie Alps. Local guides with shuttle service WILL show you the BEST TRAILS AND SINGLE TRACKS TO DIE FOR.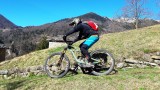 FIVE DAYS MTB ALL MOUNTAIN

You are used to singletracks, narrow paths with different substrates such as gravel, stones, roots and other technical challenges. You have good conditions to be biking several days both up and down. We love coffee breaks, good food and a lot of laughs. In all our 7 nights MTB trips we will have one day free for you to explore Bergamo city or just relax.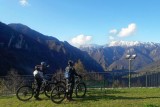 MTB XC THREE DAYS IN THE VALLEY

We use the historical paths and old donkey roads that are following the river Brembo and in the end connecting the upper valley with the next valley and further on to Switzerland. We are passing through the small villages and the singletracks are technical and flowy. One of the days we go to the mountains to really explore and try the mountain life and the trails.

NIGHTS; 4
LEVEL: 3 : 4
GROUP: SMALL, MIN 4 - MAX 8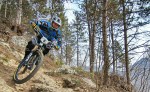 CREATE YOUR OWN TRIP

Here you and your friends has the opportunity to chose days, levels and create yiur own trip. Maybe you are a team and wnat to kick-off the seasnon with a training camp? or Really longing for a 6 days biking adventure like our Trans Orobica?

let us know your wishes and we can construct the right trip for you and your friends!


CONTACT US FOR A PERSONALIZED TRIP
PICTURES FROM EARLIER MOUNTAINBIKE TRIPS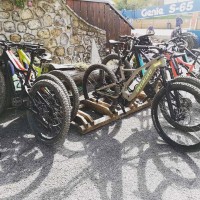 BIKES AND EQUIPMENT
To give you the best experience of our hard and difficult downhills in the mountains, we use E-bike, Specialized Levo and Kenevo. The unexplored areas are without lift systems and mostly non-possible to reach by car...so we use the E-bike to come up to 2000 meters and there start our downhill session along the walls of the mountains. The bikes are made for enduro and they will save your energy and bringing you to the most lovely places for biking!
You bring your personal gear and equipment, we have helmets if you want to borrow, or tell us before your arriving if you want to rent protection for knees and back etc.
If you are used to ride with pedals like "SPD" and other "clicks" - bring the pedals and we change on the bike. Here we all have flat pedals to be quick on and off the bikes.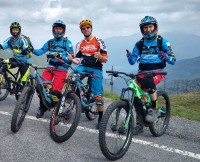 SALVI BIKE STORE

For the quality and service, we've chosen to work with Salvi Bike store in Zogno. They deliver bikes in the latest models and good condition and the mechanics are the best you can get. They are one of the leading distributors and agents for Specialized and together with the brand Bianchi, they have all the possibilities to give you a great biking-experience.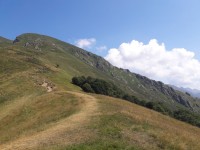 MTB FREERIDE, ALL MOUNTAIN
Enduro on natural paths, steep, stony and technical challenges, this is what awaits you in the Orobie Alps. With shuttle service, guides and good equipment, we go for starting points at 2000 meters and after a long technical downhill, with focus on the trail and the bike, we finish in a charming village for a cup of coffee before we go back out there and ride again. We chose paths and trails in different levels both of your skills and the weather conditions in the mountains.
Nature is fantastic and spectacular, steep down, high up and balcony roads that take your breath away. When you join an open travel group, it is important to choose the right level both in technical and fitness, for safety and for your and your travel partners joy.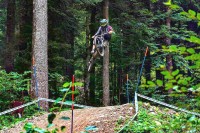 LOVE BIKE PARK - DOWNHILL, PIAZZATORRE
Do you love bike parks and all the technical skills needed? Then we will be happy to present a mixed trip with one or two days in the bike park of Piazzatorre. Love Bike park has for 2 years, organised one part of the competition National Downhill Series. The "Back to the Roots-trail" is one of the most challenging trails for the whole series. Together with the founders Matteo & Matteo, we will have a good time and learning a lot about the difficulties.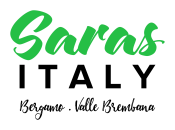 SarasItaly - SG Turismutveckling AB | 24016 San Pellegrino Terme, BG Italien
426 53 Västra Frölunda Sverige | +46 705 222 376 | +39 334 906 7528
org nr: 556888-5601 | info@sarasitaly.com | www.sarasitaly.com
We have arranged a travel guarantee at the Swedish Kammarkollegiet
The fact that we have arranged a travel guarantee means that you can be reimbursed if any part of your package tour or linked travel arrangements is canceled if we should suffer insolvency.
The fact that we have arranged a travel guarantee means that you are entitled to compensation for the part of the package trip or linked travel arrangement for which we are responsible and which has not been completed.
Here you can check that we have a travel guarantee