MTB All Mountain in the Orobie alps Bergamo, Italy 4 nights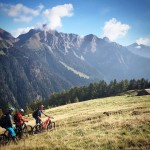 A great MTB trip in the beautiful mountains of northern Italy. This trip fits the usual MTB cyclist who likes to challenge and is curious about a downhill track or an Enduro race. You enjoy biking singletrack, winding paths and fantastic altitudes in the Alps with lots of technical challenges.

With three intense cycling days together with our local guides, you get an insight into the mountains, the trails and the technical challenges. We have an overnight stay in the mountains where we check-in at the family-run Rifugio, sleep in multi-bedded rooms and eat a well-cooked traditional dinner. In the valley, we live in a smaller spa hotel with charming rooms and close to the village with a great local bar and restaurants.

Want to challenge your technical skills? Welcome to the Orobie Mountains and Valle Brembana!
Day 1, Arrival day - Transfer from the airport and welcome dinner in the mountain village Branzi
We pick you up at the airport for transfer to the small village Branzi in upper Valle Brembana. In the evening, around 19.00 we come together for an Italian aperitivo, dinner and talking about the coming days.
Food incl: aperitivo, welcome dinner 2 courses, water, table wine, water and coffee.

Day 2, Biking day tour in the nearby
We meet the guides, they bring the bikes and we will set off for our first day in the mountains. Uphill, downhill and some technical parts, all to try our bikes and get a bit feeling of the Orobie Alps. In the afternoon we reach our hotel and you could spend an hour or two in the relax area before dinner or for the interested ones, follow us to the local dairy, to see the production of cheese and of course a small tasting. Dinner together in a local restaurant
Food incl: breakfast, cheese tasting, dinner two courses, table wine, water and coffee.

Day 3, The Orobie Alps and one night in Rifugio.
After breakfast, we pack a small bag for one night in the mountains, in a B&B or Rifugio. We go for a full day biking on challenging roads, on 2000 meters hight and narrow paths over fields for the animals. You will bike on balcony roads which goes close to the mountains and gives us wonderful views. The ground is both smooth and tricky, stony and with roots and steps - but you have the opportunity to choose the level of your way down. At the Rifugio, we will have time to rest and take a shower before the evening dinner. We sleep in several bedded rooms, ladies and gents in separate rooms.
Food incl: Breakfast, aperitivo, dinner 2 courses, table wine, water and coffee.

Day 4, Full day biking and back to Branzi, relax and good food
When we wake up we are in the mountains and will have a great start on our last day biking. After breakfast, we go over and around the mountains to slowly come down to the valley again. Balcony roads, singletracks and narrow paths will bring us down to the villages and the valley. After lunchbreak, you have the choice to go to Branzi by our shuttle or biking the whole way back. In the afternoon we reach Branzi and the hotel and we will enjoy an aperitivo and the wellness area before we go for dinner.
Food incl: Breakfast, aperitivo, dinner 2 courses, table wine, water and coffee.

Day 5, Departure Branzi and Valle Brembana
We organize the transfer to the nearest airports and you will leave Valle Brembana and Branzi for this time. If you want to stay another few days or do some other activities -please let us know and we will help you to arrange the best solution for you.
Food incl: Breakfast


OPTIONAL - LIVING IN THE NEARBY??? If you arrive by car or local transportation
Let us know if you want to shorten the trip, without transfer or one night less... if it suits you better. Please send us a mail at info@sarasitaly.com
Around 19:00 at arrival day, we come together, talk about coming days and go for a nice dinner at the local restaurant.
If you want to bring your own e-bike - please contact us!
JULY: 18 - 22
OCT: 10 - 14
TYPE OF TRAVEL:
LEVEL:
GROUP SIZE:
ACTIVE, MTB ENDURO
3 : 4
SMALL, MIN 4 - MAX 8
MINIMUM PARTICIPANTS
We do really like to go out in the mountains and it is not often we have to close a trip. If it should be so, the participants are less then 4 p, we let you know at least 30 days before departure and we will refund all your money.
CHANGES IN THE PROGRAM
The daily program could be changed in case of bad weather or other external circumstances
ACCOMMODATION
The accommodation will be at Villa Chiara B&B and apartments (or similar) includes part in 2- or 3 bedded room, breakfast, sheets and towels. Accommodation in the Rifugio, easy, cosy and familiar, includes sheets and towels and we share several bedded rooms, ladies and gents separately. The toilets and showers can be shared outside the room.
RENTAL BIKES
To give you the best experience in this amazing area, we use E-bikes, Specialized Levo, made for all-mountain and freeride. The bike gives us the opportunity to reach the top and the start of the trails, without using the shuttle or lift systems.
INSURANCES
Before you come and bike with us, please check your personal insurance for the activity Mountain biking. If you are from an EU country, please bring your EHIC insurance card.
If the bikes will get damage, you have to pay for all the costs included for repairing the bike, at the bike centre. Before you leave you will have the opportunity to buy insurance from the bike shop.
Flight or other transportation to Italy is not included. We include transfer from the closest airports such as Bergamo/Orio al Serio, Milano/Linate or Milano/Malpensa. You will often find flights with Ryanair, Easy Jet or other cheap flights. If you arrive by car or local transportations, please let us know and you will have a personal price.
The trip has a minimum of participants and if the trip wouldn't be as scheduled we repay all your money and we let you know as latest as 30 days before departure.
INCLUDED IN THE PRICE
* Part in two- or three bedded room in hotel*** incl. breakfast, 3 nights
* Part in several bedded room, ladies and gents separate, in Rifugio incl breakfast, 1 night
* 2x aperitivo, 4x dinner
* All MTB tours with local guides speaking eng/italian.
* English/swedish speaking tour leader
* Rental bikes, Specialized Levo, 3 days
* All transports between hotel, tours and excursions.
* Transfer on arrival and departure day from the nearby airports.
NOT INCLUDED
* Lunch for days biking
* Single room, possible at the hotel, 3 nights + 120.00€ (not at the Rifugio)
* Insurances, personal for the activity you will do or for cancellation the trip (please read the booking rules)
* Flight to Italy, or other transportation to the start of the trip
* Insurance for the bikes, it will be offered before the trip starts. 45.00€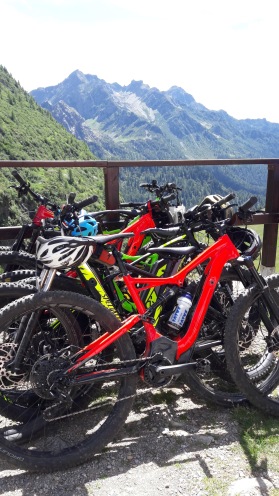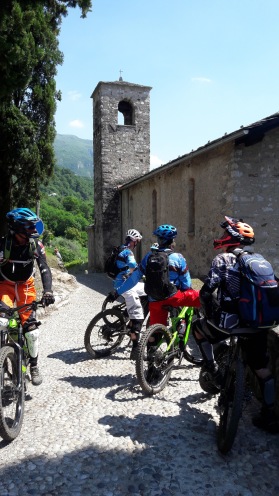 SarasItaly - SG Turismutveckling AB | 24016 San Pellegrino Terme, BG Italien
426 53 Västra Frölunda Sverige | +46 705 222 376 | +39 334 906 7528
org nr: 556888-5601 | info@sarasitaly.com | www.sarasitaly.com

We have arranged a travel guarantee at the Swedish Kammarkollegiet
The fact that we have arranged a travel guarantee means that you can be reimbursed if any part of your package tour or linked travel arrangements is canceled if we should suffer insolvency.
The fact that we have arranged a travel guarantee means that you are entitled to compensation for the part of the package trip or linked travel arrangement for which we are responsible and which has not been completed.
Here you can check that we have a travel guarantee