Travel in private or customize your trips for groups
The perfect solution for a group of friends, colleagues at work, or if you just want to custom made your travel together with us.
EXCLUSIVE PRIVATE TRIP
Maybe you have your own wishes or a fixed date for the trip to start. Let us know your timetable and your wishes to give you an offer, we are flexible and happy to put together a trip with a special theme, for a family or interesting trips for both adults and children.
Maybe you have food & drink as an interest or want to hear all about history, architecture and the city of Bergamo?

CONFERENCE OR WORK
Why not combine work with pleasure? Here in San Pellegrino Terme there are opportunities for larger conferences which we combine with Spa, good food and wonderful outdoor activities. You fly to Bergamo or Milan and then have the cities, the Franciacorta wine district, the lakes Lago di Iseo and Lago di Como and the whole Valle Brembana to explore.

SPORT- AND ACTIVE GROUPS
Are you responsible for a group of athletes and want to make an amusement or training trip for your club? With us in Valle Brembana, outdoor sports such as MTB freeride, road bike, mountain running, climbing and hiking are great. We like to combine kayaking, rafting and canyoning if the water in the river wishes us well .. We are planning an active, fun trip for your group - maybe we stay in the mountains for a couple of nights or go on a football game with Atalanta in Bergamo? More inspiration here >>

EDUCATIONAL TRIPS
Arranging an educational trip in the Bergamo region provides no bathing on long beaches or thumping party music. However, we give you an unforgettable experience in the mountains with various activities. We visit productions of small-scale products such as cheeses, herbs and the famous water. On day trips there are charming Bergamo and large fashionable Milan which gives the group many opportunities to immerse themselves in history, culture and other things that belong to the big city.
PLEASE CONTACT US FOR ALL YOUR QUESTIONS
SarasItaly - SG Turismutveckling AB | 24016 San Pellegrino Terme, BG Italien
426 53 Västra Frölunda Sverige | +46 705 222 376 | +39 334 906 7528
org nr: 556888-5601 | info@sarasitaly.com | www.sarasitaly.com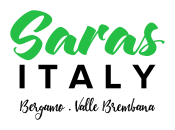 We have arranged a travel guarantee at the Swedish Kammarkollegiet
The fact that we have arranged a travel guarantee means that you can be reimbursed if any part of your package tour or linked travel arrangements is canceled if we should suffer insolvency.
The fact that we have arranged a travel guarantee means that you are entitled to compensation for the part of the package trip or linked travel arrangement for which we are responsible and which has not been completed.
Here you can check that we have a travel guarantee