Travel and Taste, FOODTOUR, San Pellegrino Terme, beer, wine and cheese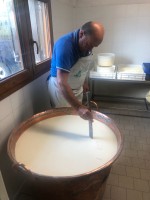 Assaggiare i piatti locali e la cucina tradizionale, è un ottimo modo per viaggiare ed esplorare.
Conoscere la cultura e le tradizioni dei luoghi per capire l'evoluzione del cibo e ciò di cui dobbiamo stare attenti oggi.

In questo viaggio di 5 giorni, cerchiamo i migliori prodotti locali nella nostra regione, la parte montana di Bergamo. Cibo genuino e ottimo per le persone che lavoravano nei boschi, nelle malghe con gli animali e che usavano le montagne come seconda casa.
In Val Brembana si producono formaggi stagionati straordinari oltre che Taleggio, Strachitunt e molti altri, produciamo birra con sapori di montagna e ci sono piccoli eventi locali per celebrare la stagionalità dei prodotti. Eventi come la "Sagra delle Mele", la raccolta delle erbe in "Erbe del Casaro", i funghi in "Fungolandia" o il consumo di castagne arrostite dette "borole" a fine autunno. Incontreremo produttori orgogliosi che amano mostrare i modi tradizionali di fare cose buone e avremo l'opportunità di assaggiare queste ricercatezze. Andremo nella zona di produzione dello champagne italiano per scoprirne i segreti: il vino della Franciacorta. Non mancherà un assaggio delle migliori grappe invecchiate per gli amanti delle esperienze uniche.

A seconda delle date del viaggio, il programma potrà essere leggermente diverso per motivi stagionali.
IL PROGRAMMA PUO' ESSERE VARIATO IN BASE ALLE CONDIZIONI METEREOLOGICHE

Giorno 1. Benvenuti a San Pellegrino Terme.
Dopo il trasferimento dall'aeroporto, puoi effettuare il check-in in uno degli affascinanti hotel a conduzione familiare situati nella piccola piazza. Ci incontriamo nel pomeriggio per una passeggiata in città dove si sente un po' la storia delle terme che permea ancora oggi San Pellegrino Terme. Un aperitivo in piazza e poi una passeggiata al birrificio. Il mastro birraio ci mostra il birrificio, assaggiamo le birre e poi ceniamo al ristorante del birrificio nel villaggio.
Cibo incluso: aperitivo, cena al ristorante del birrificio con vino, acqua e caffè per il cibo.


Giorno 2. Caffè, dolci e le incantevoli montagne con pernottamento in rifugio e cibo del territorio.
Iniziamo la giornata con i dolci nella nostra pasticceria o gelateria e visitiamo la produzione. Prepariamo lo zaino per la notte e ci dirigiamo verso le montagne. A piedi o con l'aiuto del trasporto in jeep, raggiungiamo i 1500 m di altitudine. L'attività sarà calibrata in base alla stagione e al tempo, il tema è il formaggio locale con visite a produttori e caseifici locali. (Latteria Sociale di Valtorta o Vedeseta). Viaggio estivo: visitiamo la famiglia Locatelli che in estate tradizionalmente fa pascolare i propri animali sui pendii e sui prati in montagna. Qui il formaggio viene prodotto direttamente in loco, in baita, residenza estiva della famiglia. Cosa c'è di meglio che assaggiare formaggi, salumi e un bicchiere di vino con una vista grandiosa sulle montagne e sulla valle? Restiamo in montagna per una notte e dormiamo nel classico rifugio. La famiglia che gestisce il rifugio serve cibo tradizionale del territorio, dopo cena ci si intrattiene a fare quattro chicchiere prima di andare a coricarci con vista sulle montagne direttamente dalla finestra delle nostre stanze.
Cibo incluso: colazione, degustazione di formaggi, cena rustica al Rifugio incl. Vino, acqua e caffè per il cibo.


Giorno 3. Appassionati coltivatori di frutti di bosco ed erbe, pranzo in agriturismo con prodotti e ricette di produzione propria.
Dopo colazione salutiamo il Rifugio Casari e scendiamo di nuovo a valle. Oggi visitiamo la coltivazione biologica di frutti di bosco ed erbe.Qui crescono i piccoli frutti necessari alla produzione di marmellate ed il locale Paruch, gli spinaci selvatici, ottimo come condimento per la pasta. Attraversiamo lo storico borgo di Cornello dei Tasso, la stazione fiscale ai tempi in cui Venezia era alla guida della struttura commerciale in Europa. La vecchia via commerciale Via Mercatorum era una direttrice importante dello scambio tra l'Europa settentrionale e meridionale. Il sistema di affrancatura con francobolli, che usiamo ancora oggi, ha il suo piccolo museo nel villaggio. Più a valle, un magnifico pranzo in fattoria ci attende all'Agriturismo Ferdy. Lo stesso Ferdy ha dedicato la sua vita a mantenere vive le tradizioni, i metodi di costruzione e l'allevamento degli animali. Con l'aiuto della famiglia ha creato una vera fattoria con possibilità di pernottamento, una scuola di equitazione anche per bambini, producendo il proprio formaggio che serve in un ristorante di alta classe. Qui avremo la nostra pausa pranzo e se siamo fortunati con il meteo ci verrà servito sotto gli alberi, nel parco dove possiamo gustare sia cibo che bevande in un ambiente molto rilassante. Nel pomeriggio siamo di nuovo a San Pellegrino Terme e di nuovo in hotel. Avrete del tempo libero a vostra disposizione
* * Qui hai la possibilità di goderti la Spa QC Terme per una fantastica serata rilassante con piscine interne ed esterne, saune e trattamenti - comunicaci la tua intenzione di prenotare la spa.
Cibo incluso: colazione, pranzo in agriturismo incl. Vino, acqua e caffè per il cibo


Day 4. The day of the drinks, sweet, strong and world-class bubbles.
Today is the day of the drinks and we head to the area around Bergamo, Iseo and towards Brescia. We go to Franciacorta, an exciting wine region that produces the Italian champagne "Franciacorta". Bubbles of the highest class are produced by one hundred manufacturers who meet the high-quality requirements.
But we start the day backwards and we'll see where the wine grapes residues go - to the distillery, where they become the strong drops of Grappa. The family company Peroni, with the grandmother in the lead, produces award-winning Grappa and we see how the production works and of course, we have to taste their large and varied range of Grappa. Then it's time to switch to bubbles, lunch and Franciacorta. The food is consumed at one of the vineyards and afterwards, we'll have a presentation and showing in the production where we learn about "il metodo classico" - the champagne method.
After lunch and bubbles, we go back to the valley and pass the small village Scanzorisciate and stop by at one of the wine producers where the family makes an award-winning Moscato di Scanzo, the exciting red sweet wine, perfect for a chocolate dessert!
The evening in San Pellegrino Terme is free to enjoy whatever you want with food & drink.
Food included: Breakfast, winery lunch including Franciacorta, water & coffee and tastings

Day 5. Departure from San Pellegrino Terme
Depending on your flight times, transfers are adapted to your airport. In time, the city of Bergamo is charming and perfect for strolling around, enjoying a cold drink at the piazza and then taking the airport bus (15 min) to the airport. For those of you who go directly to the flight, we are happy to stop and refill your cheese storage on the way so that some of your favourites may come with you back home again.
If you want to stay for more days, we are happy to help you with recommendations and accommodation, maybe a rental car to drive around and continue exploring the area's tasteful treasures.
Food included; Breakfast
APRIL: 18-22
JUNE: 13-17
JULY: 11-15
SEPT: 5 -9
TYPE OF TRIP:
DIFFICULTIES:
GROUP SIZE:
TASTE & TRAVEL - FOOD TOUR
1 : 1
SMALL: MIN 4 - MAX 12
MINIMUM PARTICIPANTS
We do really like to show you the area and taste the local food, and it is not often we have to close a trip. If it should be so, that the participants are less then 4p, we let you know at least 30 days before departure and we will refund all your money.
CHANGES IN THE PROGRAM
The program can be changed in case of circumstances such as bad weather and other things that the organizer can't be responsible for.
ACCOMMODATION
We stay in hotel***, sharing a two-bedded room. (single room on demand) 1 night will be at Rifugio or B&B in the mountains. Familiar and good located. We'll sleep in several bedded rooms, bunk beds, ladies and gents in separate rooms (or another good dividing). Shower and toilet are in the corridor. The food is local and made by traditional recipes.
EQUIPMENT & LUGGAGE
For the best experience on this trip, you should have comfortable clothes and shoes made for walking outside.
INSURANCE
Don't forget to check your private insurances. If you are an EU-member, please bring your international healthcare card.
INCLUDED IN THE PRICE
* Part in two bedded room at hotel***, 3 nights incl breakfast.
* Part in several bedded room at Rifugio / B&B, 1 night incl breakfast.
* 2x dinner, 3x great lunch and 3x aperitivo, incl drinks
* Tour leader for the whole trip
* All guided tours and visits including tasting both food and drinks
* All transfer needed for tours and excursions.
* Transfer to recommended airports on arrival and departure day.
NOT INCLUDED
* Single room at the hotel, 3nights, + 120.00 €
* Entrance to Spa QC Terme
Flight or other transportation to Italy is not included. We include transfer from the closest airports such as Bergamo/Orio al Serio, Milano/Linate or Milano/Malpensa or the train station in Bergamo. You will often find flights with Ryanair, Easy Jet or other cheap flights. If you arrive by car or local transportations, please let us know and you will have a personal price.
The trip has a minimum of participants and if the trip wouldn't be as scheduled we repay all your money and we let you know as latest as 30 days before departure.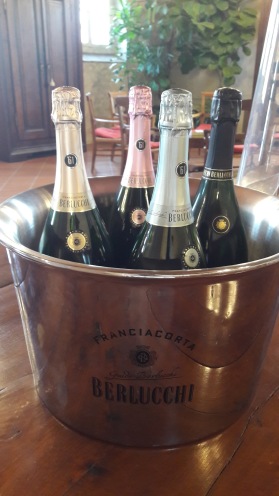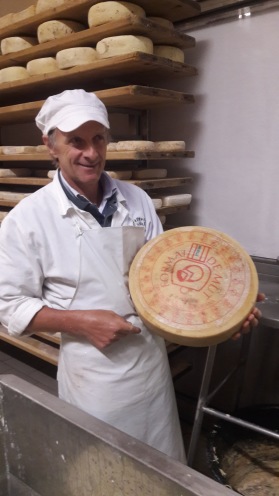 SarasItaly - SG Turismutveckling AB | 24016 San Pellegrino Terme, BG Italien
426 53 Västra Frölunda Sverige | +46 705 222 376 | +39 334 906 7528
org nr: 556888-5601 | info@sarasitaly.com | www.sarasitaly.com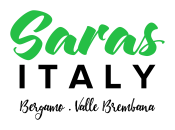 We have arranged a travel guarantee at the Swedish Kammarkollegiet
The fact that we have arranged a travel guarantee means that you can be reimbursed if any part of your package tour or linked travel arrangements is canceled if we should suffer insolvency.
The fact that we have arranged a travel guarantee means that you are entitled to compensation for the part of the package trip or linked travel arrangement for which we are responsible and which has not been completed.
Here you can check that we have a travel guarantee