MTB All Mountain, freeride in alpi Orobie, Bergamo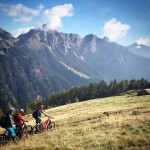 A great MTB trip in the beautiful mountains of northern Italy. This trip fits the usual MTB cyclist who likes to challenge and is curious about a downhill track or an Enduro race. You enjoy biking singletrack, winding paths and fantastic altitudes in the Alps with lots of technical challenges.

With three intense cycling days together with our local guides, you get an insight into the mountains, the trails and the technical challenges. We have an overnight stay in the mountains where we check-in at the family-run Rifugio, sleep in multi-bedded rooms and eat a well-cooked traditional dinner. In the valley, we live in a smaller spa hotel with charming rooms and close to the village with a great local bar and restaurants.

Want to challenge your technical skills? Welcome to the Orobie Mountains and Valle Brembana!
Day 1, Biking day tour in the nearby
We meet the guides, they bring the bikes and we will set off for our first day in the mountains. Uphill, downhill and some technical parts, all to try our bikes and get a bit feeling of the Orobie Alps. In the afternoon we reach our hotel and you could spend an hour or two in the relax area before dinner or for the interested ones, follow us to the local dairy, to see the production of cheese and of course a small tasting. Dinner together in a local restaurant
Food incl: breakfast, cheese tasting, dinner two courses, table wine, water and coffee.

Day 2, The Orobie Alps and one night in Rifugio.
After breakfast, we pack a small bag for one night in the mountains, in a B&B or Rifugio. We go for a full day biking on challenging roads, on 2000 meters hight and narrow paths over fields for the animals. You will bike on balcony roads which goes close to the mountains and gives us wonderful views. The ground is both smooth and tricky, stony and with roots and steps - but you have the opportunity to choose the level of your way down. At the Rifugio, we will have time to rest and take a shower before the evening dinner. We sleep in several bedded rooms, ladies and gents in separate rooms.
Food incl: Breakfast, aperitivo, dinner 2 courses, table wine, water and coffee.

Day 3, Full day biking and back to Branzi, relax and good food
When we wake up we are in the mountains and will have a great start on our last day biking. After breakfast, we go over and around the mountains to slowly come down to the valley again. Balcony roads, singletracks and narrow paths will bring us down to the villages and the valley. After lunchbreak, you have the choice to go to Branzi by our shuttle or biking the whole way back. In the afternoon we reach Branzi and the hotel and we will enjoy an aperitivo before you leave.
Food incl: Breakfast, aperitivo

OPTIONAL - ARE YOU LIVING IN THE NEARBY?

Day 1, Arrival day - Transfer from the airport and welcome dinner in the mountain village Branzi
We pick you up at the airport oe trainstation for transfer to the small village Branzi in upper Valle Brembana. In the evening, around 19.00 we come together for an Italian aperitivo, dinner and talking about the coming days.
Food incl: aperitivo, welcome dinner 2 courses, water, table wine, water and coffee.

Day 4, Relaxing end of the trip with dinner and one overnight.
You have the oppurtunity to stay an extra night in Branzi and villa Chiara. Enjoy the relax area and join the group for the last dinner together.
Food incl: evening dinner 2 courses, water, wine and coffee

Day 5, Departure Branzi and Valle Brembana
We organize the transfer to the nearest airports ans trainstation and you will leave Valle Brembana and Branzi for this time. If you want to stay another few days or do some other activities -please let us know and we will help you to arrange the best solution for you.
Food incl: Breakfast
JUNE: 7 - 9
JULY: 19 - 21
OCT: 11 - 13
TYPE OF TRAVEL:
LEVEL:
GROUP SIZE:
ACTIVE, MTB ENDURO
3 : 4
SMALL, MIN 4 - MAX 8
PARTECIPANTI MINIMI
Ci piace molto uscire in montagna e non è spesso necessario chiudere un viaggio. In tal caso, i partecipanti sono meno di 4 p, ti informeremo almeno 30 giorni prima della partenza e ti rimborseremo tutti i tuoi soldi.
MODIFICHE AL PROGRAMMA
Il programma può essere modificato in caso di circostanze quali maltempo e altre cose di cui l'organizzatore non può essere responsabile.
ALLOGGIO
Restiamo in hotel *** la prima e l'ultima notte, condividendo una camera a due letti. (camera singola su richiesta) 2 notti saranno al Rifugio o B&B in montagna. Familiare e buona posizione. Dormiamo in diverse camere con letti a castello. Doccia e servizi igienici si trovano nel corridoio. Il cibo è locale e preparato con ricette tradizionali.
BICICLETTE PER NOLEGGIARE
Per la migliore esperienza in questo viaggio, we use E-bikes, Specialized Levo, made for all-mountain and freeride. The bike gives us the opportunity to reach the top and the start of the trails, without using the shuttle or lift systems. . Vi preghiamo di contattarci per domande.
ASSICURAZIONE
Non dimenticare di essere chiaro sulla tua assicurazione privata che dovrebbe includere attività come Mountain bike. Se sei un membro dell'UE, ti preghiamo di portare la tua tessera sanitaria internazionale. If the bikes will get damage, you have to pay for all the costs included for repairing the bike, at the bike centre. Before you leave you will have the opportunity to buy insurance from the bike shop.
Flight or other transportation to Italy is not included. We include transfer in the full-day package trips, from the closest airports such as Bergamo/Orio al Serio, Milano/Linate or Milano/Malpensa. You will often find flights with Ryanair, Easy Jet or other cheap flights. If you arrive by car or local transportations, please let us know and you will have a personal price.
The trip has a minimum of participants and if the trip wouldn't be as scheduled we repay all your money and we let you know as latest as 30 days before departure.
INCLUDED IN THE PRICE
* Part in two- or three bedded room in hotel*** incl. breakfast, 1 nights
* Part in several bedded room, ladies and gents separate, in Rifugio incl breakfast, 1 night
* 2x aperitivo, 2x dinner
* All MTB tours with local guides.
* Rental bikes, Specialized Levo, 3 days
* All transports between hotel, tours and excursions.
*
NOT INCLUDED
* Lunch for days biking
* Single room, possible at the hotel, 1 nights + 40.00€ (not at the Rifugio)
* Insurances, personal for the activity you will do or for cancellation the trip (please read the booking rules)
* Flight to Italy, or other transportation to the start of the trip
* Insurance for the bikes, it will be offered before the trip starts. 45.00€
OPTIONAL PACKAGE + 150.00€
* Transfer on arrival and departure day from the nearby airports or trainstation
* 2 nights (first and last days) at the hotel incl breakfast and relaxing area
* 2 evening dinner, 2 courses with water, wine and coffee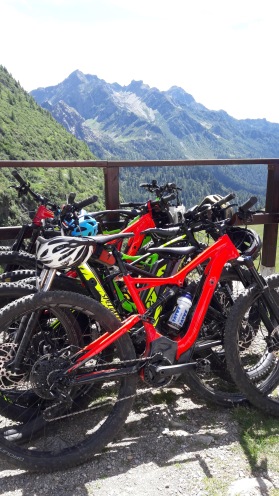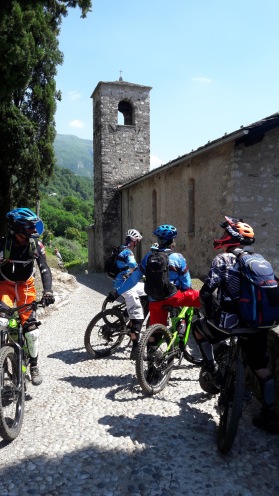 SarasItaly - SG Turismutveckling AB | 24016 San Pellegrino Terme, BG Italien
426 53 Västra Frölunda Sverige | +46 705 222 376 | +39 334 906 7528
org nr: 556888-5601 | info@sarasitaly.com | www.sarasitaly.com

We have arranged a travel guarantee at the Swedish Kammarkollegiet
The fact that we have arranged a travel guarantee means that you can be reimbursed if any part of your package tour or linked travel arrangements is canceled if we should suffer insolvency.
The fact that we have arranged a travel guarantee means that you are entitled to compensation for the part of the package trip or linked travel arrangement for which we are responsible and which has not been completed.
Here you can check that we have a travel guarantee