MTB xc, three days biking at the winding paths of valle brembana, the orobie alps, bergamo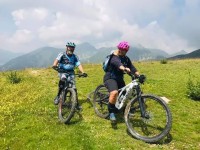 A long weekend where you as a cross country biker can challenge your boundaries, enjoy the heights and meander through the small villages in the valley Brembana.
Here we emphasize the single track-biking and find the most winding paths between the villages of the valley, it takes us on old donkey paths, stairs and along the mountain walls along the Brembo river. A visit to the local beer brewery is bordered by an aperitivo in the square. We have an overnight stay in the mountains where we check-in at the family-run Rifugio, sleep in multi-bedded rooms and eat a lovely homemade dinner. If you want to, you end the trip with a long stay at Spa QC Terme in San Pellegrino Terme - a paradise for tired bodies!

The challenging downhill and a lot of stairs can become the guiding word when you return home - Welcome!
Day 1, San Pellegrino Terme, via Mercatorum, history and single tracks in the valley, the day ends with a visit at the beer brewery.
08.30 We meet our guides, check our bikes and set off for a day biking where we make our way between small villages, sheep pastures and trails that tie everything together. The valley's historic trade route via Mercatorum and via Priula together with donkey paths become the paths that take us back and forth between start and finish. Coffee break and lunch before we are back in San Pellegrino Terme again. After showering and changing, join for a visit at the local beer brewery and dinner at their restaurant in the village.
Food included: Breakfast, evening dinner 2 dishes, table wine, water, coffee

Day 2, Orobie mountains with overnight stay at Rifugio
Today there will be a shuttle with bicycles and guides as well as an overnight bag in the luggage - it's time to take us to our mountains. With height meters up to 2000 m and lovely views we choose paths and roads to use every height meter in the best way. Up and down and up again until we land at the night's shelter, our Rifugio for the night. Here awaits an aperitivo, shower and change, maybe a sauna and the day ends with a great dinner on local products. We sleep in multi-bedded rooms with bunk beds.
Food included: Breakfast, aperitivo, evening dinner 2 dishes, table wine, water, coffee

Day 3, Back to San Pellegrino Terme
We take the long way home, or we use the whole day for great biking. Challenging for those who want or descend on forest roads and white roads for those who wish. The paths meander and after coffee break and lunch we are back at the hotel in San Pellegrino Terme. A closing aperitivo and we say by by to our guides for this time.
Food included; Breakfast, aperitivo

OPTIONAL - LIVING IN THE NEARBY???
If you arrive by car or local transportation, let us know if you want to enlarge the trip one night before the start or with the spa evening at the end. Without transfer or bring your own bike. Please send us a mail at info@sarasitaly.com
Around 18:00 at arrival day, we come together, talk about coming days and go for a nice dinner at the local restaurant.

Day 1, Arrival the day before
Transfer from our nearby airports or railway station in Bergamo on the day of arrival. Approximately 18.00, short reconciliation for the coming days and we all go together for dinner at one of the village's local restaurants.
Food included: Welcome dinner 2 dishes, table wine, water, coffee

Day 4, Ending the tour with Spa QC Terme
If you want to stay to end the tour with the Spa QC Terme, you easily check-in at Spa QC Terme, just 5 minutes walk from your hotel. A 4-level Spa with relaxation rooms, indoor and outdoor pools and the opportunity to book wonderful treatments for the tired bodies. At Spa QC Terme, a simpler evening buffet is served with finger food & bubble.
Food included: finger-food buffet at Spa QC Terme

Day 5, Departure from San Pellegrino Terme transfer to the airport or train station
After breakfast at the hotel, you check out and travel to the airport for your departure in good time. Transfers to nearby airports are included on the day of departure. If you want extra nights or other options on your trip, we will be happy to help you.
Food included: Breakfast
AMOUNT OF NIGHTS: 2
* Possibilita di aggiungere due notte al pacchetto
KIND OF TRIP:
LEVEL:
GROUP SIZE:
MTB CROSS COUNTRY
2 : 3
SMALL, MIN 4 - MAX 8
MINIMUM PARTICIPANTS
We do really like to go out in the mountains and it is not often we have to close a trip. If it should be so, the participants are less then 4 p, we let you know at least 30 days before departure and we will refund all your money.
CHANGES IN THE PROGRAM
The daily program could be changed in case of bad weather or other external circumstances
ACCOMMODATION
The accommodation will be at hotel*** in San Pellegrino Terme includes part in 2- or 3 bedded room, breakfast, sheets and towels. Accommodation in the Rifugio, easy, cosy and familiar, includes sheets and towels and we share several bedded rooms, ladies and gents separately. The toilets and showers can be shared outside the room.
RENTAL BIKES
To give you the best experience in this amazing area, we use E-bikes, Specialized Levo 2020, made for all-mountain and freeride. The bike gives us the opportunity to reach the top and the start of the trails, without using the shuttle or lift systems.
INSURANCES
Before you come and bike with us, please check your personal insurance for the activity Mountain biking. If you are from an EU country, please bring your EHIC insurance card.
If the bikes will get damage, you have to pay for all the costs included for repairing the bike, at the bike centre. Before you leave you will have the opportunity to buy insurance from the bike shop.
INCLUDED IN THE PRICE
* Part in two- or three bedded room in hotel*** incl. breakfast, 1 nights
* Part in several bedded room, ladies and gents separate, in Rifugio incl breakfast, 1 night
* 2x aperitivo, 2x dinner
* Guided tour at the local brewery
* All MTB tours with local guides
* Rental bikes, Specialized Levo, 3 days
* All transports between hotel, tours and excursions.
NOT INCLUDED
* Lunch for biking days
* Single room, possible at the hotel, 1 nights + 40.00€ (not at the Rifugio)
* Insurances, personal for the activity you will do or for cancellation the trip (please read the booking rules)
* Flight to Italy, or other transportation to the start of the trip
* Insurance for the bikes, it will be offered before the trip starts. 45.00€
OPPORTUNITY - 2 NIGHTS EXTRA WITH SPA AND SERVICE - 115.00€
* 2 nights in hotell*** (first and last night of the trip)
* 2x dinner, 2 courses with water, wine and coffee
* Entrance to Spa QC Terme and evening buffè with drinks
* Transfer from and to the closest airports and trainstation
Il volo o altri trasporti per l'Italia non sono inclusi. Includiamo il trasferimento in pacchetto full-day, dagli aeroporti più vicini come Bergamo / Orio al Serio, Milano / Linate o Milano / Malpensa. Troverai spesso voli con Ryanair, Easy Jet o altri voli economici. Se arrivate in auto o con i trasporti locali, fatecelo sapere e avrete un prezzo personale.
Il viaggio ha un minimo di partecipanti e se il viaggio non è come previsto rimborsiamo tutti i tuoi soldi e ti informiamo almeno 30 giorni prima della partenza.
SarasItaly - SG Turismutveckling AB | 24016 San Pellegrino Terme, BG Italien
426 53 Västra Frölunda Sverige | +46 705 222 376 | +39 334 906 7528
org nr: 556888-5601 | info@sarasitaly.com | www.sarasitaly.com

We have arranged a travel guarantee at the Swedish Kammarkollegiet
The fact that we have arranged a travel guarantee means that you can be reimbursed if any part of your package tour or linked travel arrangements is canceled if we should suffer insolvency.
The fact that we have arranged a travel guarantee means that you are entitled to compensation for the part of the package trip or linked travel arrangement for which we are responsible and which has not been completed.
Here you can check that we have a travel guarantee